You are probably asking in your head, "What is a sex ritual?" " How is it different from just normal sex?"
Let me explain it to you.
A sex ritual is an intentional practice, offering or ceremony where you consciously set specific energy, ambiance, and feelings that you want to experience. This could be to get more intimate together or to have a romantic evening of lovemaking or to go wild with passion all over the house.
The point is it is INTENTIONAL, not just sliding into bed after work, dinner, and the TV, rolling towards one another and then making out and fucking.
No this is about creating an experience for both of you to enjoy.
I love sex rituals because it allows my femininity to blossom, I allow myself to get creative with how I want the evening to be explored and at the same time, I know how I want to FEEL (sexy, desired, turned on, excited….)
Here are 9 tips for preparing for a Sex Ritual with your man.
1. Ask you man what his desires/fantasies are
This allows you to incorporate some of his fantasies with yours! It will also turn him on when you ask him that question as it gets his imagination flowing with the ideas of 'oh maybe I'll get this!'
2. Decide on the main feeling of the Sex Ritual
Is it going to be erotic? Playful? Wild? Animalistic? Romantic? Slow? You can also combine two or more through the evening/ritual. I always decide on how I want to feel at the end of my ritual, then build backwards to create the experience.
3. Be creative
Think of the whole evening as an experience that leads from one moment to the next. How does the evening start? Maybe it even starts the moment you wake up and whisper "I've got a surprise for you this evening…."
How can you lead onto one event to the next? For example if your man comes home, maybe there is a note on the table for him to go and change into some clothes you laid out on the bed for him. In the bedroom he finds rose petals strewn along the path to the bathroom.
Inside the bathroom on the mirror in lipstick you have written that he is to step into the bath and pour a glass of red wine for you.
You then join him in the bath and rub him down with soap….
Etc. You get the idea. Be creative and lead him into the experience deeper and deeper.
4. Decide if you want to have sex or not
I love building up erotic tension with my partner. This means sex isn't always on the table. The desire for sex is, and yet that doesn't mean I have to fulfil that desire. I love feeling the wanting, the lust, the longing for my partner.
You can tease your man and keep saying "no, later", or "not now honey"…
Feel into your sexual energy and learn that having sex isn't always the end goal. Enjoying your erotic tension and your pleasure in all that is before physical intercourse is the whole fun!
5. You are in control
Since you are the one creating the sex ritual experience, most often surprising your partner (it's a beautiful gift to give!), your man will want to be guided to know what to do. Be assertive in a sexy way, guide his hands where you want to be touched, whisper in his ear how he can please you. Blindfold him and lead him into the bedroom… you get the idea…
6. It's all about the ambiance
Turn the lights low, put music on. Prepare your space. Make it special. This isn't just another evening. This is a time to explore each other. Creating the right ambiance also sets the mood for both of you.
7. Use props
Props could be coconut oil, sex toys, feathers, hand cuffs, ice or a silk scarf. Mmmm tantalise his senses (a big part of Tantra), awaken his whole body by teasing all his 5 senses before you get into any heavier foreplay. The body is a highly receptive energetic field, activate all those senses for a heightened experience.
8. Have a shower before
Cleanliness is key and it also allows you to feel good about yourself. It's the pre ritual ritual! You can imagine the day washing off of you in the shower, feel the silky quality of the water on your skin. Lather yourself sensually. Rub that body cream on as you tell yourself how sexy and luscious you are.
You can also totally have a shower together!
9. Wear something you feel super sexy in
Sex rituals get even more juicy when YOU feel super sexy. It means you'll have more confidence and try out new things (maybe a lap dance!?) I love my lingerie, so that's what I usually wear!
Men also love love a woman who feels sexy as it exudes from her pores and makes them more attractive to you.
Go through your closet and put on the clothes or lingerie and ask yourself; "Do I feel sexy in this?" If it's a big yes, it's a go! If it's a maybe or no, it's time to update the sexier side of your clothes!
~
Have I given you some naughty, sexy and kinky ideas of how to prepare for a sex ritual with your man?
I can guarantee you that he will absolutely LOVE it.
Have you created a sex ritual before? I'd love to hear your experience with it! Comment below.
If you want to learn more about relationships and how to show up for yourself and the MEN in your life check out

BRING ON BIG LOVE. 
BRING ON BIG LOVE is my 4 week online course all about relationships. In 4 weeks you'll learn;
Your beliefs around love
What BIG LOVE really means
How to welcome in love into your life right now
The 3 key foundations that make an epic relationship
See your Toxic Relationships patterns and how to avoid them in your life
What you really DESIRE and how to create a safe space to be heard in your needs.
The biggest mistake to avoid in a new relationship
How to create a relationship according to both your needs
Uncover your triggers that lead to fights
How to own your experience and take radical relationship responsibility
The framework for conflict resolution
How to keep the passion alive (even after years!)
Understand your arousal and how to turn on your turn on
How to keep the communication flowing (the key to erotic + passionate sex!)
Check out

BRING ON BIG LOVE

here.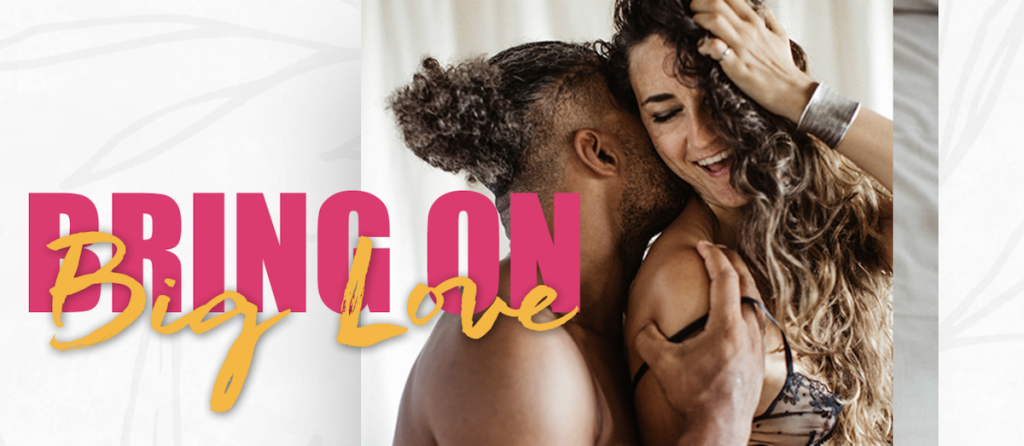 xo
Nora