Here's a step by step breakdown of what YOU can do in order to find a man who ADORES you.
⁠
* LONG POST AHEAD *⁠
⁠
Ok so you are single, wanting a relationship and it's simply not happening (maybe it's a complete dry spell of no men, or you are frustrated with the crappy men who don't follow through, or you keep having short term men who end it, or you have men who treat you like you don't mean anything to them – did I cover it all?😂)⁠
⁠
The first thing to understand is that if you want a HEALTHY relationship you are going to have to do your own inner work/searching/questioning…⁠

⁠
Here's how;⁠
⁠
1. Look at your current love wounds ⁠
⁠(Did you get dumped? Cheated on? Mistreated? Feel insecure about yourself?)⁠
⁠
2. Get clarity in the stories you tell yourself around men + dating + love + relationships⁠
⁠(You can't change a story if you aren't aware it's playing out for you!)⁠
⁠
3. Look at your childhood and the bonds (or not) you formed with parents or like.⁠
⁠(It's from our parents we observe, learn and copy or rebel the majority of how we choose to do life!)⁠
⁠
4. Learn about the neuroscience and psychology of attraction – I teach this in depth!⁠
⁠(We aren't in control of who we are attracted to as our brains are wired to be ready for war and not love at all times.)⁠
⁠
5. Find any remaining needs around love that aren't being fulfilled to fulfil them yourself.⁠
⁠(This stops you being in narcissistic, toxic, or unhealthy relationships!)⁠
⁠
6. Clear out any of your insecurities which ultimately all stem from the fear of not being lovable.⁠
⁠(Body shame, looks shame, career shame – you name it- the root of insecurities are all the same)⁠
⁠
7. Cultivate self compassion, forgiveness, love, acceptance using brain rewiring⁠
⁠(If you don't know how to love yourself you can't teach anyone else…this is how abusive relationships are formed!)⁠
⁠
8. Learn to allow yourself to be more feminine in the essence of playfulness, allowance, beauty, flow⁠
⁠(Feeling feminine is like a deep nervous system reset in this masculine paced world)⁠
9. Know your own YES and NO's around the men you want aka boundaries
10. Learn the foundation of communication which the the key to ANY healthy relationship.
(Without communication there is NO relationship as you just live in your head assuming about the other and this isn't intimacy!)
—-
Ok that's a lot!
And it kinda isn't.
If you know HOW to do this step by step it's easy! And FUN! And REVEALING! And EXCITING! 😄
This is the process I am taking you through in my School of Feminine Magnetism.
A 12 week live group coaching program to get you into a healthy relationship with yourself and a man!
Want more info?
Check it out below…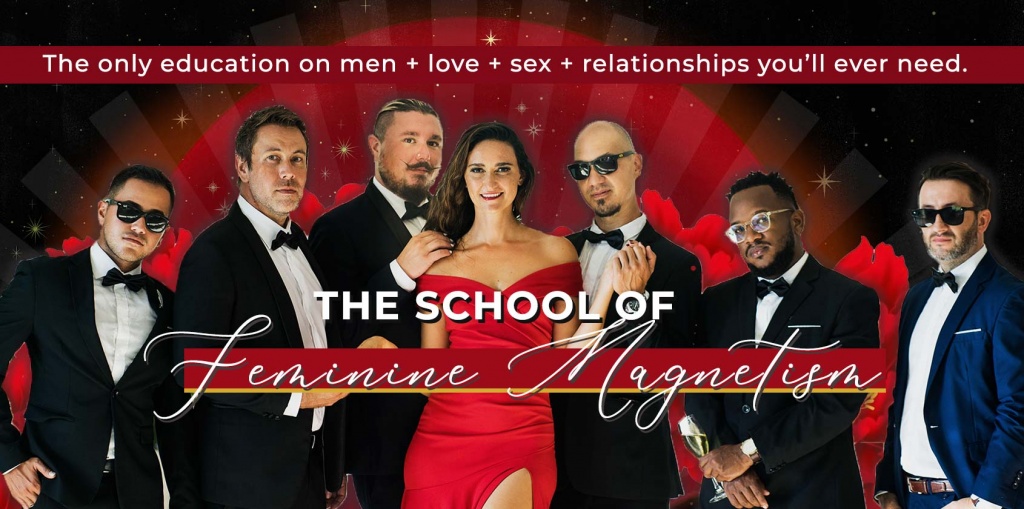 Love you like I love raw chocolate
Xo
Nora