Ladies, do you crave men to want MORE of you? To have them serving YOU because they enjoy your presence so much? The men in my life do exactly that. I am the QUEEN when I am around them, and I demand nothing less. The secret? It isn't even a secret. Know how to please your man in the bedroom (Bedroom is just metaphorical! Know how to please your man SEXUALLY WOMAN!)
Here are my top 8 ways to please your man and notice that not all of them are directly about SEX but instead it's about getting to know your man and his desires.
1. ASK
Ok it's so simple that we forget. Just ask him "what do you enjoy?" What turns you on? What drives you crazy for me?
Asking is the most direct way to get into the deep juicy parts of your man that will make him want more of YOU because you know how to please him.
You can ask these questions before you start and hey, even talking kinky may be the arousal!
Or you can ask during the act…"how does that feel?" "What can I do right now to please you even more?"
Two great questions that won't interrupt the sexy flow. Mmm yes. Ask and you shall receive the keys to his pleasure.
2. TEASE AND TANTALIZE
Going straight for the light saber of joy isn't always the best, even though men do LOVE direct cock stimulation, teasing, biting, nail scratching (lightly), running your hands up and down their body, sweet kisses….all these are part of the erotic play of turn on.
Don't jump the gun! Allow the build up of tension by teasing and tantalising.
You can even ask how he wants to be teased…😉 See point 1!
3. INITIATE
Oh how men love when YOU tell them "I want you right now". Text them, whisper it to them, call him and tell him how you can't wait for him to ravish you.
It's modern day ladies, men don't ALWAYS have to initiate, make a man feel desired and I can guarantee you that he will ravish you at the first chance.
4. APPRECIATE HIM
I love how you touch me like that. You are so sexy. That feels so good.
Words of appreciation go a long way. Men don't have instruction manuals to our pleasure (and neither do we to them! Hence talking is so key!) Men want to know they are doing great sexually too.
Did you know men suffer higher levels of performance anxiety than women? "Can it up" "will I stay hard" are thoughts that go through men's mind more often than we as women think.
When your man wants to please you, share with him how great he is doing, it will make him want to please you more! Most men I know love giving pleasure, and when he feels appreciated and knows he is doing a good job he'll want to do more.
Now appreciation can be given outside the bedroom too and men love that shit too! "I love you wearing that shirt it makes your eyes stand out" "I appreciate you making time for me" "Thank you for xyz" allowing a man to feel how much you do care and can feel how caring he is will translate into him wanting to show up more for you, also in the bedroom!
5. BE CONFIDENT. FEEL SEXY.
Turning off the lights because of shame?
Always in the same sex positions? Saying no to fun and play?
Learn how to be confident in your own body and learn to feel sexy in the bedroom and your man will lap it up.
When you know your sexy and hot AF your man can simply nod his head in agreement.
Your own turn on will turn him on! Men love a women who is confident with herself and most importantly with her body.
And hey, if you need more confidence, check out this mega bundle training on sale right now: BREAKTHROUGH YOU – 3 for 1 training on Self Worth, Confidence + Sensuality.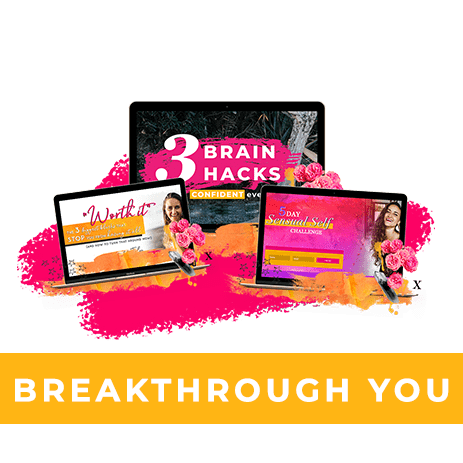 6. PLAY HIS FAVOURITE GAME
Since you talk to your man often (see point 1) you'll know what he likes.
Maybe he is into role play "Yes Daddy, anything you say Daddy…" Maybe he loves to peel off your lingerie. Maybe he wants to be sensually kissed all over… Whatever his favourite game in the bedroom is, play it FOR him. It'll show him A. You listen B. You care C. You can do things for his sake
So find out what he loves to play and then go and play. It's only for fun, remember that and if you see it that way, you both will have loads of kinky sexy fun!
7. LET HIM TAKE CONTROL
Mmm Yes. Tell your man that you are his tonight. That anything he wants to do with you/to you (with consent of course) is on the buffet menu of the evening.
Get him to play the desire game where you ask him what he desires, ask him to ask if you are ok with it, play it out, then repeat this game for a set time period. YESSSS.
I love this sexy game as it allows my man to feel in control and tune into his desires in the moment.
~
There you have it ladies – 7 ways to please your man in bed.
Which one are you going to try tonight?
Remember that the most important thing is communication in a relationship. We don't come with instruction manuals and neither do our men! We need to talk about our desires, what is working, what is not working and how we can meet each other's needs.
If you want to learn more about relationships and how to show up for yourself and the MEN in your life check out

BRING ON BIG LOVE. 
BRING ON BIG LOVE is my 4 week online course all about relationships. In 4 weeks you'll learn;
Uncover your beliefs around love
Learn what BIG LOVE really means
Learn how to welcome in love into your life right now
Learn the 3 key foundations that make an epic relationship
Understand Toxic Relationships patterns and how to avoid them in your life
Learn what you really DESIRE and how to create a safe space to be heard in your needs.
Learn the biggest mistake to avoid in a new relationship
Learn how to create a relationship according to both your needs
Understand your triggers that lead to fights
Learn how to own your experience and take radical relationship responsibility
Understand the framework for conflict resolution
Learn how to keep the passion alive (even after years!)
Understand your arousal and how to turn on your turn on
Learn how to keep the communication flowing (the key to erotic + passionate sex!)
Check out

BRING ON BIG LOVE

here.