YOU GOT THIS.
AN ONLINE PERSONAL DEVELOPMENT HIGH VIBE COMMUNITY HOSTED BY NORA WENDEL
WE NEED JOY, INSPIRATION, MOTIVATION AND FUN RIGHT NOW.
As the world is going into chaos the time has come for us to uplift each other and share our beautiful authentic selves to the world.
Ready to feel connected + supported in all the ways?
Dance parties, Motivation coaching, Mindset hacks, Tools to keep calm and collected, Money making masterclasses, Guest expert FB lives, Fun playlists, Meditations and plenty of Feel Good Content.
A juicy monthly online community for women to thrive in times of chaos.
Doors close on 5th april. join now.
This is personal development the fun way.
MINDSET + MOTIVATION + MONEY
Three topics we will be diving deep into month after month
WEEKLY
MINDSET

COACHING
One live 1 – 1.5hr ZOOM coaching call with Nora every week. Share your struggles, get coached LIVE.
Whether you feel fear, anxiety or deep unease – these weekly live calls will leave you feeling inspired, pumped up and self confident.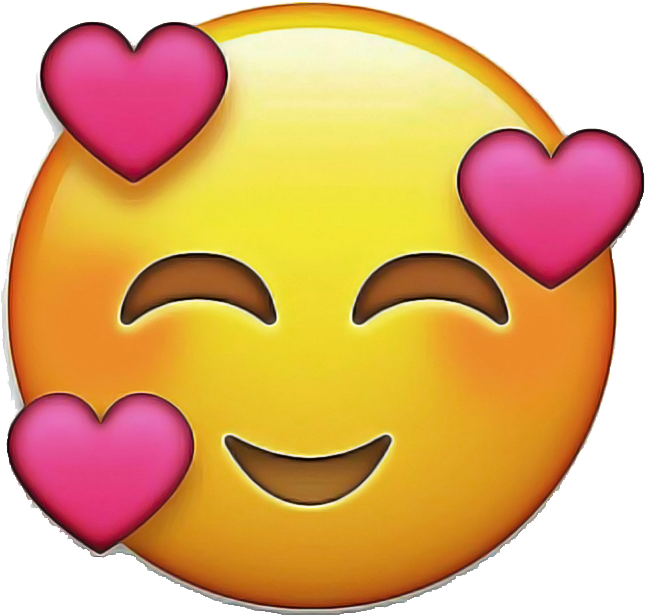 DAILY
MOTIVATIONAL

CONTENT

In our exclusive high vibe FB group, Nora and her expert friends will be posting daily content to keep you laughing, motivated and enjoying your life.
Expect funny memes, motivating meditations and FB lives to keep your smile bursting.
MAKING MONEY ONLINE

MASTERCLASSES

If you are not yet making money online, now is the TIME woman! Get ideas to start your online empire, know how to be fully online and get support in signing those clients.
These masterclasses by Nora and her guest experts are going to get the money honey.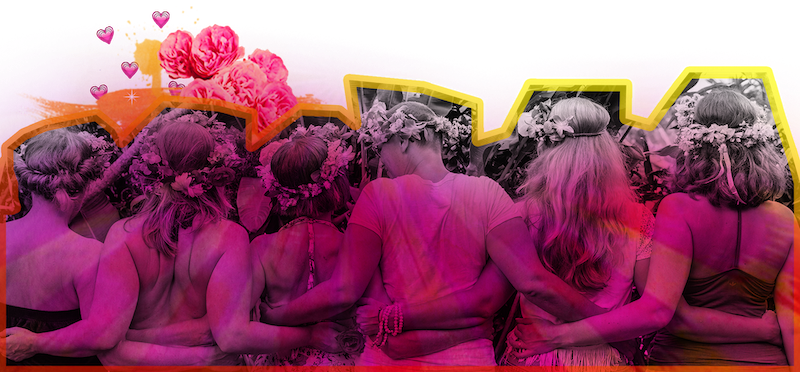 I love bringing people together so we can vibe out and inspire the F out of each other. I know what it's like to feel lonely, scared and depressed about my life.
I had 10 years of chronic anxiety.
This is the inspirational, uplifting, fun loving, dance party community of women I wish I had when I was feeling small, unloved, self hating and contracted.
No more overwhelm, anxiety or feeling alone.
INCLUDED IN THIS COMMUNITY IS…
1 weekly
live ZOOM group coaching call
Share your struggles, learn how to be creative, dig up and eradicate old beliefs that aren't serving you. Feel GREAT after every single call.
Zoom calls willl happen every WEDNESDAY either 8AM Bali time or 9PM Bali time (to allow different time zones)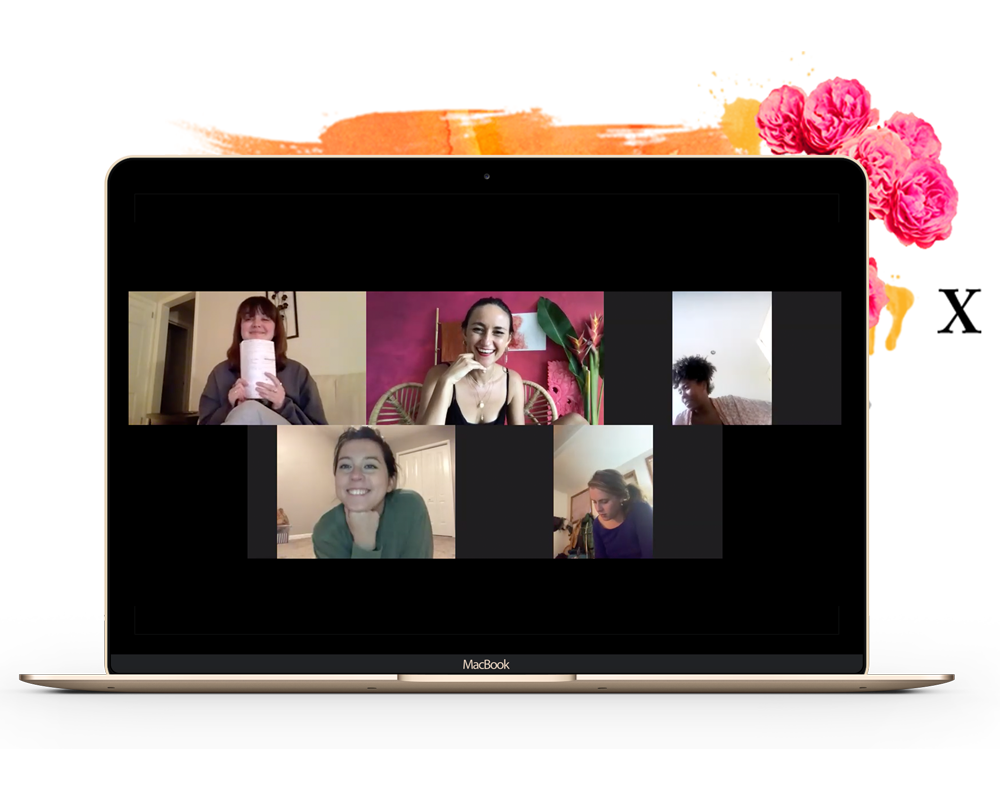 Personal development tools
Who do you want to be? How do you get to be her?
Learn tools like NLP (Neurolinguistic Programming), EFT (Emotional Freedom Technique), Emotional Intelligence, Leadership principles and ALL the practices related to self love, self appreciation and self confidence.
This is here to EMPOWER the F out of you so you can truly show up and serve the world.
Epic
high vibe music playlists
Nothing like music to shake up the soul, release stuck energy and pump up the feel good endorphins. Shake that booty woman!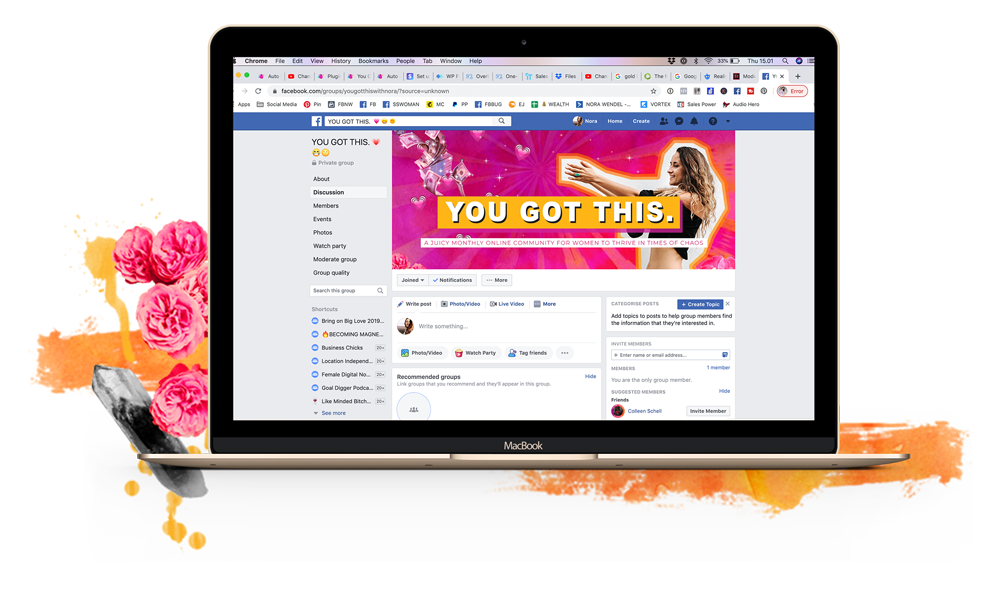 Exclusive
FB Group of Positive & Inspirational Feel Good Content
A whole bunch of content shared for the soul purpose to make you laugh, smile, feel the love and be inspired to live your boldest most authentic life. Expect a whole bunch of FB lives from sound healing, to meditations, to group yoga!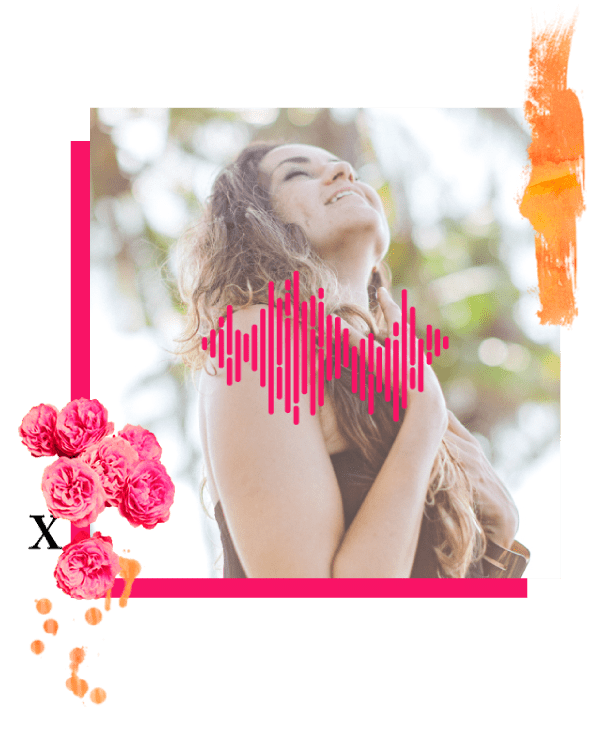 Masterclasses on Mindset + Motivation + Money
This is where the REAL juiciness lies. A time to uplevel you skillsets. What you think you become. What you have courage to do will happen and MONEY will cascade down your being like a never ending rainbow of glitter.
NLP BRAIN HACKING, MEDITATIONS, SELF DEVELOPMENT TOOLS, COACHING
a juicy community of women ready to thrive inside and out.
💥 Mindset hacking for whole body fear
💥Group collective meditations to calm and create confidence
💥How to make money online classes
💥Practices to help you get through the anxiety and anxiousness of life
💥Routines for yourself so you can sit and heal and not be overwhelmed
💥Talk and be supported in what you are going through
💥Practical tools to overcome feeling helpless and stuck
💥Learn how to find joy everyday even in times of crisis
1x live group coaching call a month with Nora – worth $1500.
Private FB group with guest expert FB lives in personal development – worth $999.
Online masterclasses on making the MONEY – worth $1999
Meditations + Playlists + Feel good Content – Priceless
How AMAZING you feel about yourself – Priceless
JOIN NOW BEFORE DOORS CLOSE ON 5TH APRIL.
$127/ 2 WEEKS
$77 / 2 WEEKS
Cancel your subscription anytime.
All masterclasses, FB lives and feel good content will be in the FB group. Link to the weekly ZOOM call is given in the FB group.
Tell me more
HOW DOES THIS ONLINE COMMUNITY WORK?
Our fb group is our main hub
All guest experts with FB lives on anxiety calming, yin yoga, sound healing, how to perform rituals, making your own cacao etc will be in the FB group.
Check back daily for funny memes, inspiring content and a group of women ready to lift each other up!
coaching calls with nora happen once a week on wednesday
Once a week via ZOOM join Nora for a coaching call. Show up, share where you are at and be coached live on how to change your mindset to FEEL GREAT about yourself and your life!
Times to be decide, most likely it will alternate between 8AM Bali and 9PM Bali on WEDNESDAY'S to accommodate multiple time zones.
month to month payment - cancel anytime
This is an ongoing monthly community with new topics, new experts and new juicy self development tools to learn.
Pay for a month, see how you like it, cancel whenever you feel you got enough good vibes!
Cancelling, refunds etc
Pay monthly, cancel your subscription by emailing nora @ norawendel.com
Cancelling your subscription will take effect from the following month. No refunds given for the month you have already been with us!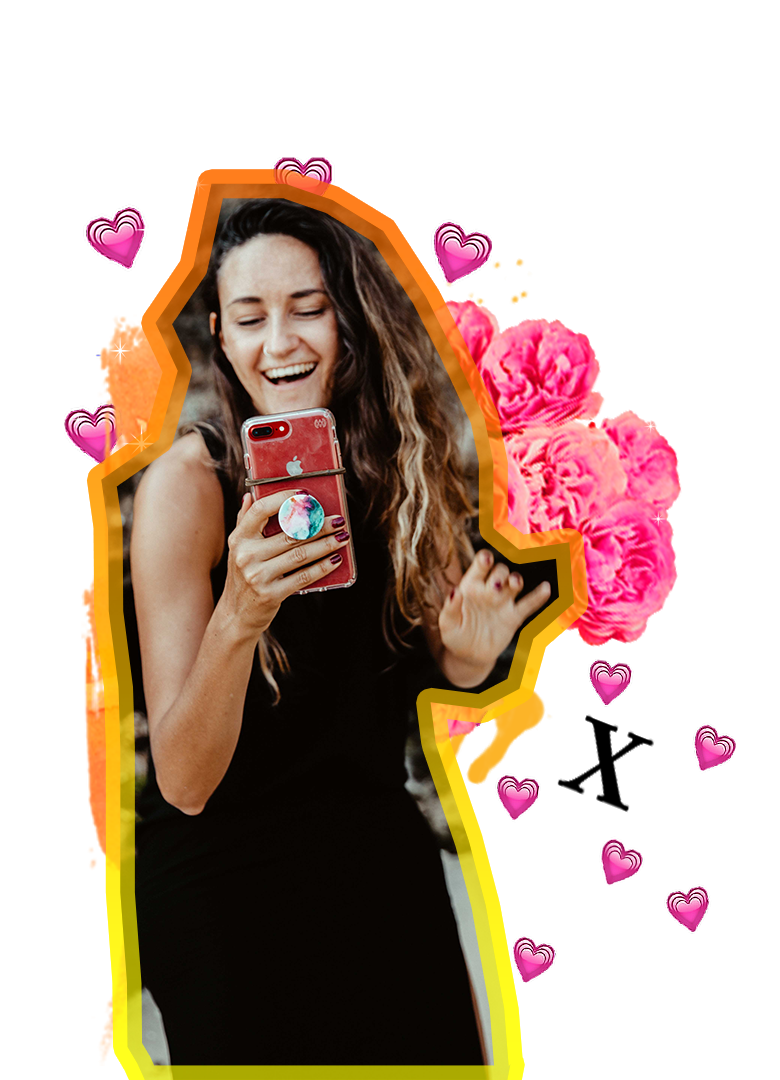 Hear it from others…
WHAT IS NORA'S VIBE LIKE?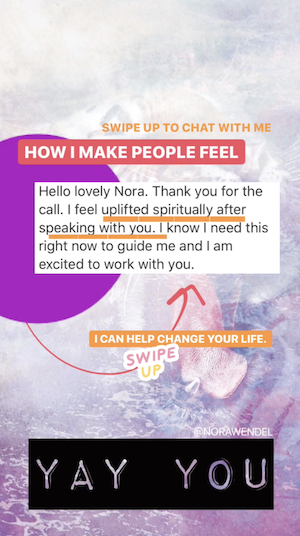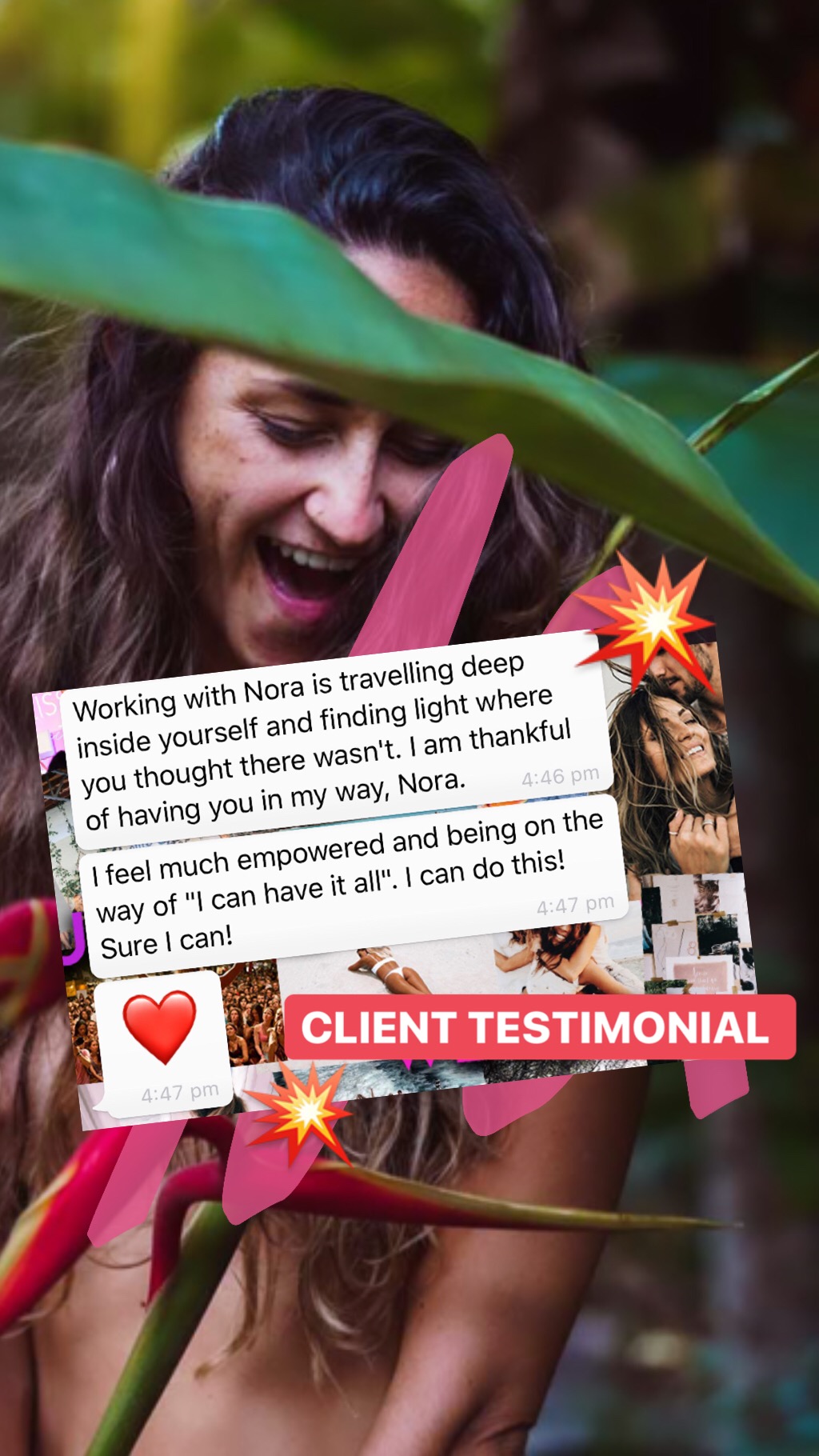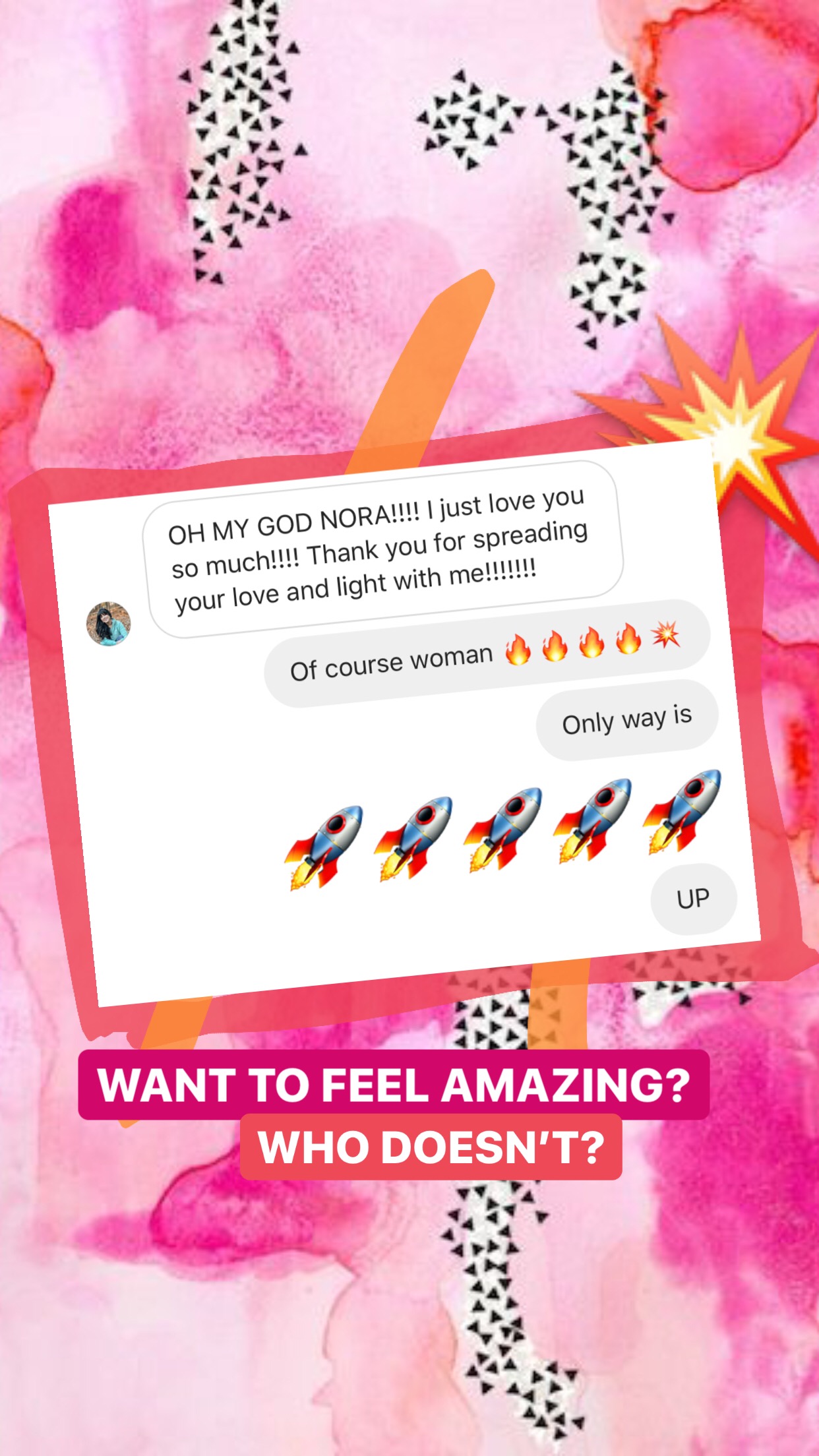 This is personal development the fun way.
WITH A BUNCH OF HIGH VIBE WOMEN READY TO
FEEL
GREAT

F*KING AMAZING
JOIN NOW BEFORE DOORS CLOSE APRIL 5TH FOR ONLY
$127/ 2 WEEKS
$77 / 2 WEEKS
Cancel your subscription anytime.
All masterclasses, FB lives and feel good content will be in the FB group. Link to the weekly ZOOM call is given in the FB group.
For
the woman ready to serve the world

with her true self.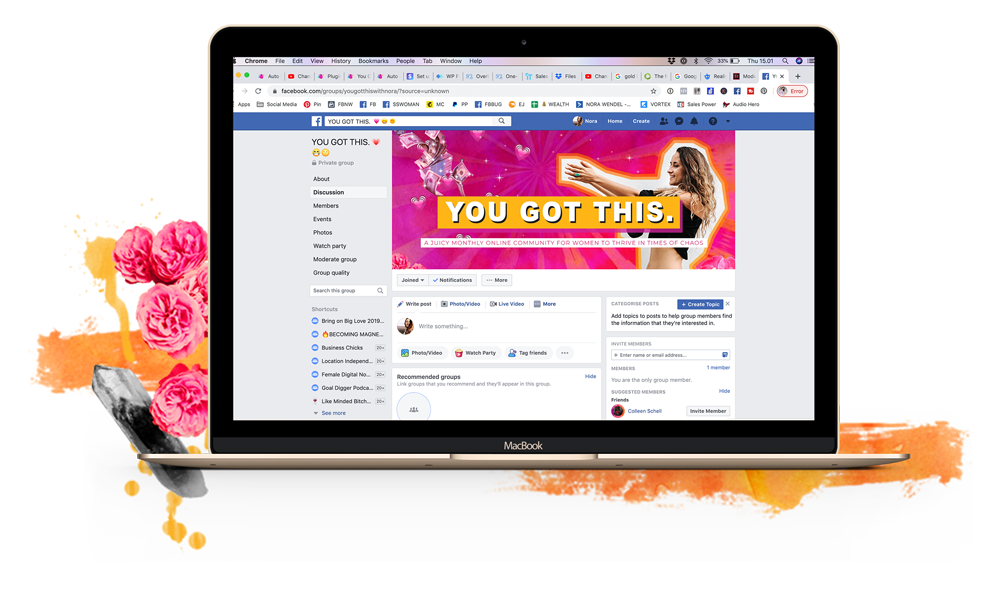 A JUICY ONLINE MONTHLY COMMUNITY FOR WOMEN TO THRIVE IN TIMES OF CHAOS.