BECOME AN INSTAGRAM EXPERT
Learn how to plan your feed + grow your tribe via Instagram stories
over 4 hours of video tips and tricks
If you are serious about making Instagram work for you – then this is an *no brainer* deal. Learn how to design your Instagram feed, become and an expert at growing your tribe through instagram stories AND get 30 flatlay stock photos *free*.
*FLASH SALE*
only US $ 197
Struggle with getting ANY reach on Facebook? From countless comments, likes and engagement to almost nothing?
That is what happened to me. I used to LOVE Facebook and got all my photography and website design clients through Facebook, but then end of last year it started to dwindle. I got frustrated, tried some Facebook ads (failed miserably as I didn't have a clue what I was doing) and didn't know what else to do.
I always had an Instagram account, and posted occasionally (you know after a moment of inspiration that lasted maybe a week or two…) but at the beginning of 2018 I decided to take Instagram seriously.
I get ALL my clients through Instagram.
and it's because I show up and share… Want to learn how I do it?
GET STRATEGIC WITH YOUR FEED
Instagram is after all a VISUAL platform – those tiny squares? Fill them up with valuable and beautiful content and you are guaranteed to have your tribe waiting for your next square! Did you know I preschedule my feed up to two months in advance? This means I am free to focus on showing up in my Instagram stories (more on that in the second workshop). What about that cohesive 'pretty' feed look? Let me show you the best apps and tools I have found, all are super EASY to understand once I show you how.
How to update your Instagram BIO so you appear on the search
How to stop posting at 1am because you forgot to post during the day (those posts never work out well)
Understand different feed styles and decide on YOUR style
Learn how to curate your content so you can plan up to 2 months in advance
Why use hashtags and how to find YOUR tribe with hashtags
Understand the different scheduling apps for Instagram
Discover the fun editing apps and all you can do with them
A brief intro to Instagram stories (more in depth in workshop 2!)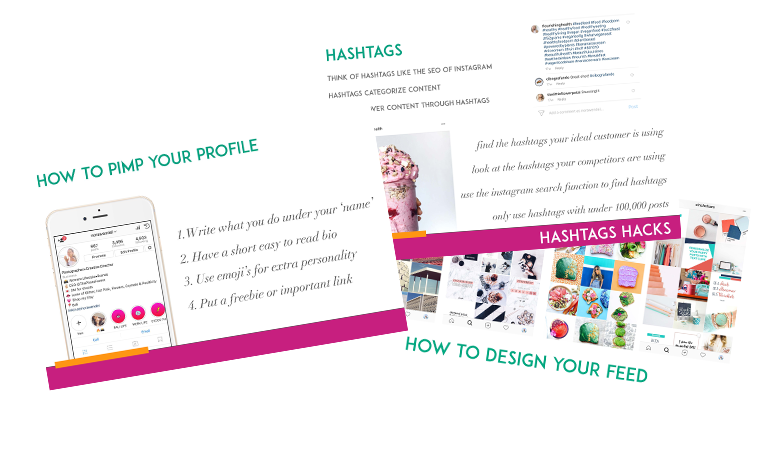 Watch the replay and if you STILL have unanswered questions, just pop me an email and I will answer them for you!
watch the workshop video (2 hrs of tips and tricks!)
YOU WON'T BE DISAPPOINTED
"In 2 hours Nora served up an incredible buffet of Insta info to blow our minds. From simple tips on how to pimp our bios to the do's and don't of hashtags and OMG so much more. I feel equipped with the perfect tools to promote my business. The workshop was personal, targeted and expertly lead with great visuals. Nora is a skilled teacher, she's fun and gets straight to the point. If you want to Rock your Instagram this is SOOO worth it. I'll be back!"
-Rachel Zinman, Yoga teacher and Yoga retreat leader
SHOW UP AND SHARE ON INSTAGRAM STORIES
OMG I am a TOTAL Instagram stories fan. I post a story every.single.day. Why? Because I know if I show up and be ME, my tribe who wants to see the real me, will show up and be there for ME. It's win/win. Did you know there are over 400 million story views per day now? If you are not showing up on stories yet, (maybe it's fear?) let me share my secrets with you on how to strategize your stories and get loads of direct messages from people wanting to become your clients. Don't worry, if your a total newbie to Instagram stories, this workshop is for you as much as it is for peeps who already know about Insta stories!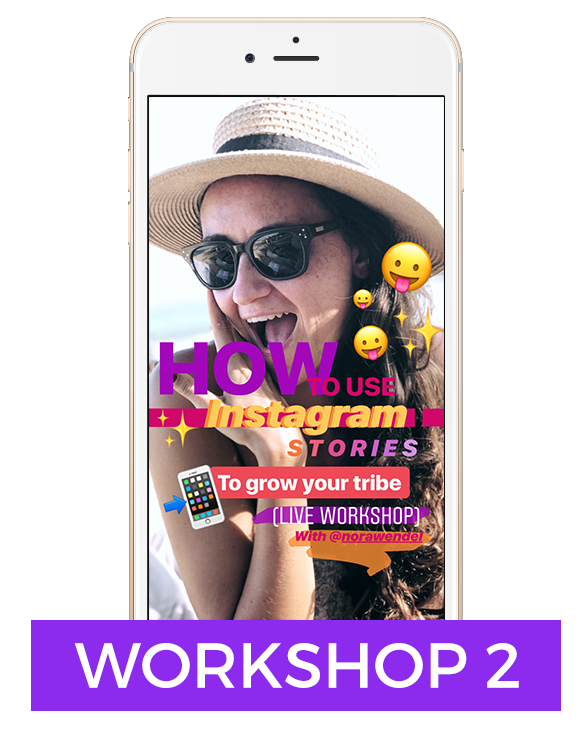 If you have ANY questions still after watching the workshop video, just send me an email and I will answer it for you!
What is an Instagram story
What type of things you can share in your stories
How to design your stories for IMPACT
Making your stories fun – using all the native Instagram story features (Gifs, polls, tags, mentions…)
Secret Instagram stories features!
Learn my favourite third party apps to create even more epic stories
How to do the story archive cover photos
How to get more viewers on your Instagram stories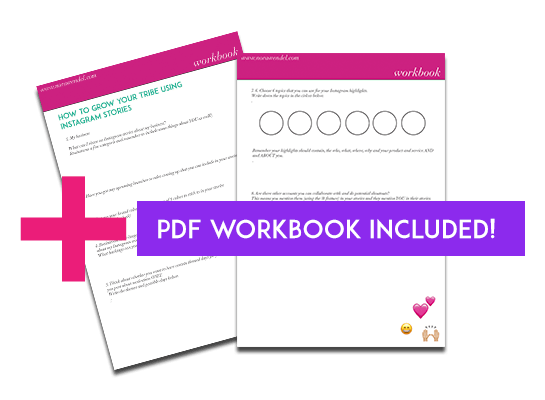 CAPTIVATE
your tribe with beautiful Insta Stories
I loved how thorough, kind and compassionate Nora was at wanting to help us all with becoming experts at Insta Stories. The most exciting thing for me was learning about Nora's favourite apps to create even more engaging stories and learning about how to find our personal audience through the insights on Instagram.
Jennifer, Healer, NY
*2 hours of Instagram story tips, strategy and step by step instructions*
Get both workshops for a discount + receive 30 flatlay stock photos for *FREE*
Check out the amazing stock photos included in this bundle!
These 30 flatlay stock photos were curated by The Photo Forest – a stock photo platform for light workers, healers, body workers and transformation coaches!
I want YOU to get as excited as I am about the POTENTIAL of Instagram for your brand building. It works. I know it does.
*FLASH SALE*
only US $ 197
Get Insta workshop 1 + 2
AND 30 flatlay stock photos