You've been together over 6 months and all that excitement, turn on and plenty of ravishing sex has disappeared. Where you question? What happened? We were so into each other! You exclaim.
Routine, knowing, same has taken over the tide of the relationship.
What do you do now?
Separate? Leave each other? Make do? Become complacent to a so-so relationship where the erotic simply isn't there anymore?
Try these different ideas to bring back the eroticism into your relationship.
First, let me clarify what I mean by the erotic or eroticism. I describe it as the internal aliveness, the turn on, and the juiciness of arousal.
When you first meet someone the hormones are raging, procreation is calling you from your sex organs (even if you don't think so! It's the number one reason for our primal sex drive; to make babies…) You can't get enough of each other, the sex is exciting and new. You want to spend every moment devouring each other.
Days fly by and suddenly it's months. You now kinda know each other, the little quirks and the compromises start.
This is when the eroticism starts its slow death.
Relationships are fantastic as they cover our basic need of belonging, of feeling chosen, of mattering to someone. Yet at the same time relationships mean we feel that closeness and this means some form of independence is lost.
Desire needs independence and spaciousness to flourish.
This is why when you first meet someone, all you want to do is spend time together, it's desire coming together. It's the grappling of intimacy and it is hot and erotic since you don't really know each other!
How do you bring back eroticism into your relationship then?
Play more.
The erotic thrives on light-heartedness. When was the last time you played with each other not for an outcome but just for laughs? Go to a board game night, go to a comedy show, ask each other what fun can be had just for fun's sake? This can also be translated into the bedroom (how often do you just end up in the same sex positions? Am I right? – Play in the bedroom too)
Take time apart.
I know plenty of long-term couples that don't sleep in the same bed, go on separate holidays, and have different friend groups. The feeling of separateness means you'll miss each other and then want to spend time together again. It feels counterintuitive, yet it works!
Set an intentional time to connect.
Instead of just lounging on the sofa together, one is watching TV, one is scrolling on the phone, set aside time each day to tune into each other. Sit opposite each other, gaze into each other's eyes, and notice the feelings which arise. Then take turns simply sharing what is on your mind or your heart while the other person listens. Then switch roles.
Taking intentional time is a beautiful way to reconnect to the simplicity of just being in the presence of each other.
Plan a date night each week.
This can be super fun for both of you. One week one partner gets to choose the fun date activity and your partner will play with you, the next week your partner gets to choose. Make it fun (see the first point!), make it intentional (see point above) and allow date night to be a night to look forward to in the week.
Open up your relationship.
OK, this one may sound WOAHHH, but stay with me… the first TALK about what opening up the relationship to others may look like. What are each other's boundaries? What is ok and what is not? Are you going to experience others together or separately? Is there a no-tell policy?
Even if you decide not to open up your monogamous relationship, the very idea of it may turn you on, and there you have it – aliveness is back in your relationship.
One word of advice if you do decide to open up your relationship, it means you really need to talk about everything ALL the time. It's a time heavy commitment where both of you need to be able to tune into your emotions and share them freely without fearing judgment. However, if this is a possibility, open relationships can be an experience that allows you to get closer not only to your partner but to yourself.
~
Eroticism is about allowing that aliveness to flow through your body. Feeling stale in your current relationship may look like; small bickering fights, getting on each other's nerves, boredom in the bedroom, fantasising about others, and feeling stifled in your identity.
Let me know how you are feeling in your current relationship!
Here's to having epically alive and erotic relationships.
xo
Nora
Want to learn how to truly cultivate epic relationships?
I have a course called BRING ON BIG LOVE where I teach you all my tools and practices I learnt over the last 20 years of my life in dealing with men and love.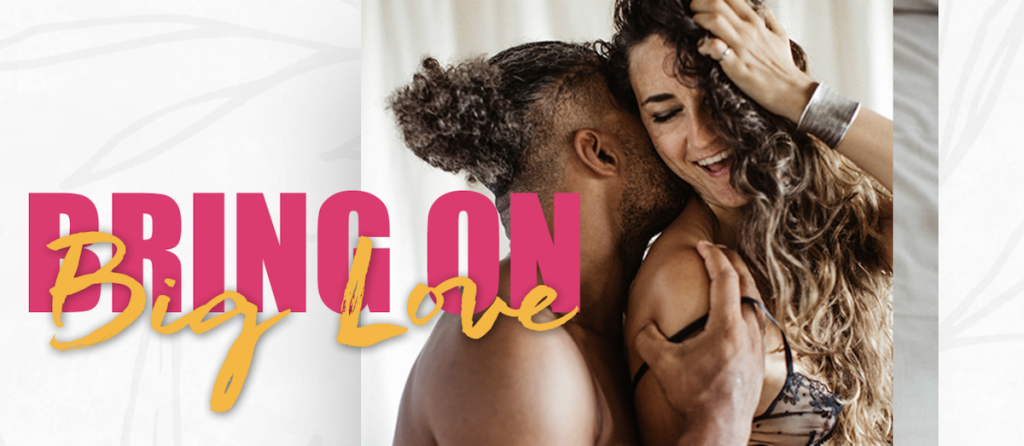 BRING ON BIG LOVE is 4 in-depth videos and 3 bonus expert interviews teaching you all about communication skills, erotic practices, and my favourite; journaling questions to get you out of your head and into your body (that's what makes your love erotic!)